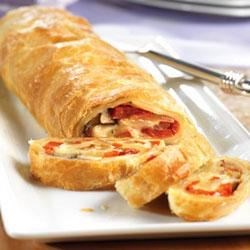 Time:AmountIngredients:Directions:
Thaw the pastry sheet at room temperature for 40 minutes or until it's easy to handle. Heat the oven to 400 degrees F. Mix the egg and water in a small bowl.
Heat the oil in a 12 inch skillet over medium-high heat. Add the peppers, mushrooms, eggplant, onion, garlic powder and basil and cook until the vegetables are tender and the liquid is evaporated. Let cool to room temperature.
Unfold the pastry sheet on a lightly floured surface. Roll the pastry sheet into a 16x12 inch rectangle. With the short side facing you, spoon the vegetable mixture onto the bottom half of the pastry sheet to within 1 inch of the edges. Top with the cheese. Starting at the short side, roll up like a jelly roll. Tuck the ends under to seal. Place seam-side down on a baking sheet. Brush with the egg mixture.
Bake for 25 minutes or until the pastry is golden. Slice and serve warm.